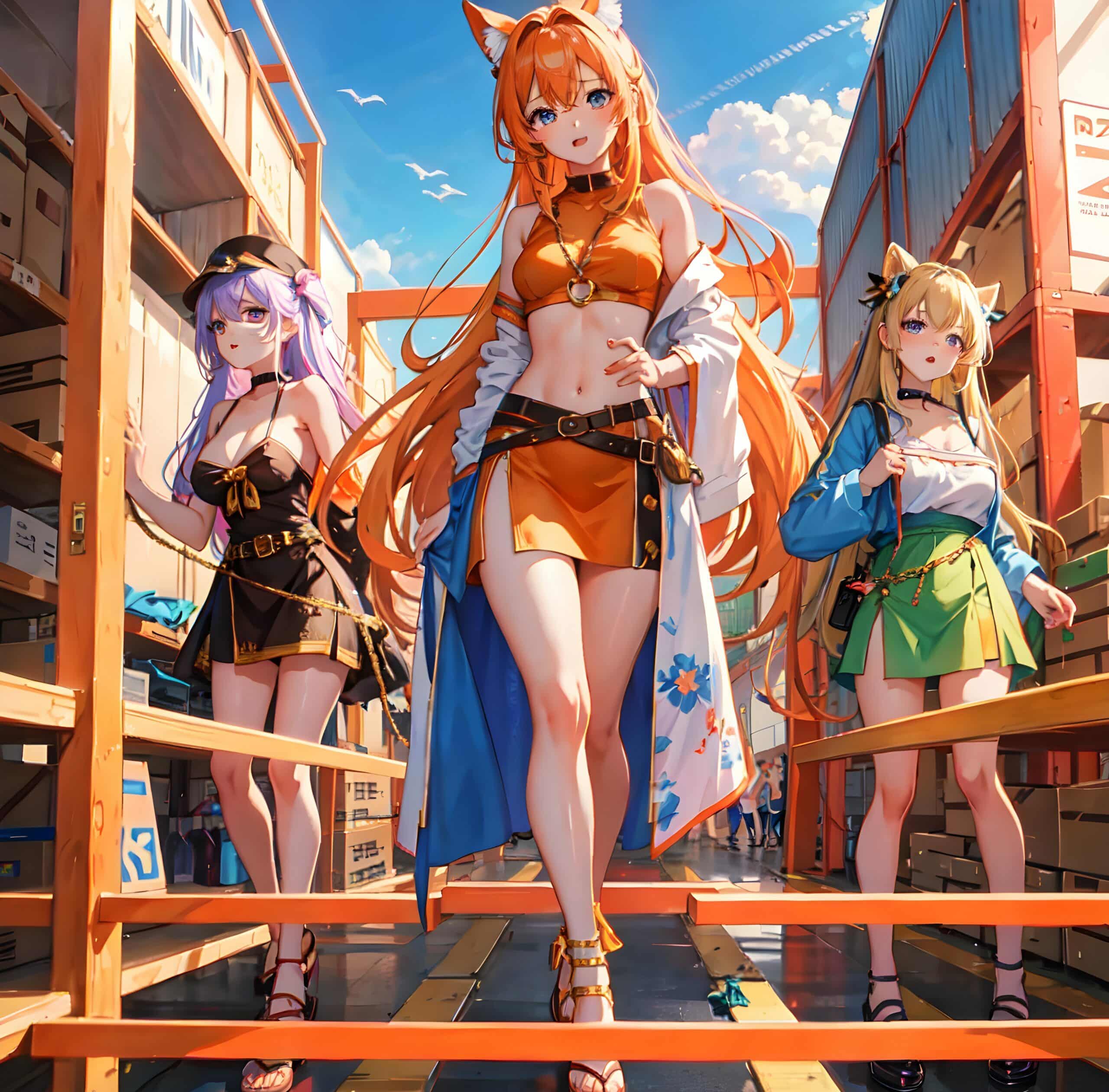 ==== FOR ENGLISH VERSION SEE BELOW ====
Liebe Kunden,
anbei die aktuelle Liste unseres Lagers in China. Falls eure Statue/eure Bestellung in der Liste dabei ist, wird sich schon bald der Status eurer Bestellung auf "Zulauf China" automatisch ändern, sobald wir die endgültige Bestätigungen erhalten haben. Wenn die Statue in den Container verladen wurde, dann ändert sich der Status auf "Container Shipped". Und bei Ankunft in Deutschland und dem Versand an Euch dann auf "Versendet".
Zum aktuellen Container – wir bzw. unser Logistikpartner hat mit Personalmangel zu kämpfen, daher zieht sich der Versand etwas hin. Ich bitte euch daher, von Fragen zum Status des Versandes in den nächsten Wochen abzusehen, da dies die Arbeit nur verzögert. Wir tun täglich unser bestes, um den Prozess zu beschleunigen.
---
Dear customers,
Enclosed is the current list of our warehouse in China. If your statue/order is in the list, soon the status of your order will change to "China Received" automatically once we receive the final confirmations. When the statue is loaded into the container, the status will change to "Container Shipped". And when it arrives in Germany and is shipped to you, it will change to "Shipped".
Regarding the current container – we or our logistics partner has to deal with a lack of staff, so the shipment is a bit delayed. I therefore ask you to refrain from asking questions about the status of the shipment in the next few weeks, as this will only delay the work. We are doing our best every day to speed up the process.
Epoch Studio - Nami
Ventus Luffy
Temple Studio UI Goku
Moonlight Studio - Yorha B Wedding White
Light Year Studio - Jiraiya Sensei
Mayflies Aerith
CP/LC Studio - Dimitrescu - White
Green Leaf Android 18
Leo of Sky Portgas
Green Leaf Jill Valentine
Faceted Pebble Ada Wong
CW Studio Naruto Akatsuki&Assassin Uchiha Itachi 1:6 Resin Statue
Box Studio Nami
BOX Studio Zoro
Last Sleep Broly 1:4
CW Studio Naruto Akatsuki&Assassin Uchiha Itachi 1:6 Resin Statue
Last Sleep Enel A,S-,S
Chikara Studio - Erwin Smith
Final Fantasy - Cloud Strife | 1:4 Resin Statue | von Pink Pink Studio
Dragon Ball - Kid Goku vs. ShenLong | YoYo Studio
Last Sleep UI Goku 1:4
JIMEI Palance - Shiranoshi
Dragon Ball - Vegeta on Throne by HunDian Studio
HUMMINGBIRD Studio 1/4 WIDOWMAKER EX FigureAce
LX-Studio One Piece Enma Zoro
Green Leaf Jill Valentine
Infinity Studio - Harley Quinn Lifesize Bust
Last Sleep Studio One-Piece Boa Hancock S-
Last Sleep Studio One-Piece Boa Hancock S
Dragon Ball - Son Goku Ultra Instinct | 1:4 Resin Statue | von Last Sleep Studio (1:4)
Dragon Ball Z – Vegeta IV | 1:4 Resin Statue | vom Last Sleep Studio
Singularity Studio Marco
Infinity Studio - Heath Ledger Joker lifesize
Sword&Wing Studio Tree Sentinel
Rosa Studio Attack on Titan Sexy Pieck Finger
Temple Studio Dragon Ball Z Third anniversary Goku 1/6 Scale Resin Statue Deposit
Nier Automata - Yorha 2B MF Studio
Creation-Studio Dark Souls The Fire Keeper Resin Statue
Infinite Studio Dragon Ball Z Goku SSJ 1/4
ThirdEye STUDIO Elden Ring Ranni
Leviathan Studio - Alliance Footman
Faceted Pebble Ada Wong
SHK Studio - Aerith
Creation Studio - Firekeeper
P.D. Studio - Samurai Goku
KD Collectibles - Piccolo DX
Infinite Studio Boa 1/6
Green Leaf Chun Li
LC Levi·Ackerman 2.0
Bolomo 2B - black version
Asuka Langley | Dragon Studio
DIM MODEL Studio Dragon Ball Z Future Trunks Resin Statue 1/4
Hummingbird Studio BAYONETTA Resin Statue EX
DT Studio Attack on Titan Levi·Ackerman VS Beast Titan
Hunter Fan Studio - Nier Automata Yorha Type A
Last Sleep Studio Dragon Ball Z Goku VS Vegeta S+
Last Sleep Studio Dragon Ball Z Goku VS Vegeta S-
CHIKARA STUDIO Attack on Titan The Female titan VS Eren
Attack on Titan - Sasha Braus | 1:6 Resin Statue | von Rosa Studio
SHK Vegeta Lifetime
Lazy Dog Studio NieR:Automata YoRHa No.2 Type B 1/6 Scale Resin Statue Deposit
Naruto – Itachi – Uchiha Family | 1:4 Resin Statue | von Ventus Studio
Final Fantasy – Tifa Lockhart | 1:4 Resin Statue | von Dragon Studio
Epoch Studio - Nami
ZBC Studio - Ultra Instinct Son Goku Ape
CorgiProGKit Studio Elden Ring Malenia Resin Statue Deposit
Attack on Titan – Mikasa Ackerman | 1:4 Resin Statue | von Yakuza Studio
RB Studio - Nier Automata: Yorha Commander
Hunter fan studio - Nier Automata: Yorha Type A
DT Studio - Usopp
Animal universe studio - Nier Automata: Yorha Type B lifesize
Xionart - Darth Maul
Creation studio 1:4 - Nier: Automata - Yorha Type A 2
RWN STUDIO 1/6 & 1/4 Kissshot Acerolaorion Heartunder Blade
Solar Studio - Freya
Xionart - Superman
NMK Studio - Hulkbuster
Imaginary Koncept - Bishop